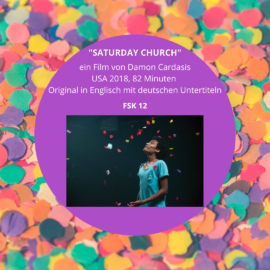 Date/Time
Date(s) - 17. March 2022
18:00 - 20:30
Eventlocation
Queeres Zentrum Erfurt
Johannesstr. 52, Erfurt
Categories
Description:

Am Donnerstag, den 17. März zeigen wir im Rahmen der Internationalen Wochen gegen Rassismus den black-queeren Coming-Of-Age Film "Saturday Church" im Queeren Zentrum Erfurt.
Original in Englisch mit deutschen Untertiteln
Donnerstag 17.03.2022
Einlass 18:30
Filmbeginn 19:00
…
Worum geht's?
Ulysses ist 14, lebt in der Bronx und hat gerade seinen Vater verloren. Weil er schüchtern ist und nicht so männlich auftritt, wie seine Klassenkameraden, wird er in der Schule gnadenlos gemobbt. Immer öfter flüchtet er sich in Tagträume, die seine triste Realität in ein leuchtendes Musical verwandeln. Zuhause kümmert sich nach der Schule seine strenggläubige und herrische Tante Rose um ihn und seinen kleinen Bruder Abe, während ihre Mutter arbeiten muss. Doch als Rose erfährt, dass Ulysses heimlich High Heels und Nylons anprobiert hat, schmeißt sie ihn tobend aus der Wohnung. Ulysses flüchtet zur "Saturday Church", einer Gemeinschaft von queeren Jugendlichen und Transgender-Sexworkerinnen, die sich einmal pro Woche in einer nahegelegenen Kirche trifft. Hier kann er endlich so sein, wie er sein möchte
(Quelle: Pressetext Film "SATURDAY CHURCH")
…
Kommt vorbei, bringt eure Freund*innen mit und lasst uns gemeinsam Popcorn essen und Film schauen. Wir freuen uns auf euch!
…
Maßnahmen zum Infektionsschutz
+Zutritt leider nur für Geimpfte, Genesene oder Getestete! (3G-Modell)
+Bitte bring einen Nachweis dafür mit.
+Bitte bringe eine medizinische Maske mit und trage sie in den Innenräumen des Queeren Zentrums.
+Wir müssen deine Kontaktdaten erfassen.
…
In two weeks we're showing the black-queer Coming-Of-Age film "Saturday Church" in the context of the International Weeks against Racism at Queeres Zentrum Erfurt.
Original in English with German subtitles
Thursday 17.03.2022
Open at 6:30 pm
Start of the film at 7 pm
…
What's it about?
Ulysses is 14, he lives in the Bronx und had just lost his father. Because he's quite shy and doesn't act as masculine as his classmates he gets bullied mercilessly. More and more often he escapes in daydreams which turn his boring reality in a shiny musical. While his mum works, his bossy and orthodox aunt Rose takes care of him and his little brother Abe. When Rose finds out that Ulysses secretly wears high heels and tights, she kicks him out. Ulysses runs away to the "Saturday Church", a community of queer teenagers and trans*sexworkers who meet once a week at a church nearby. There he can finally be himself.
…
Swing by, bring your friends and let's eat popcorn together and watch the film.
We're looking forward to see you!
…
Infection prevention measures
+You need to be vaccinated, recovered or tested (3G-model)
+Please bring a qualified certificate.
+Please bring a medical mask and wear it when you're inside.
+We need to collect your contact information.
Filmabend/ Movie night: "Saturday Church"