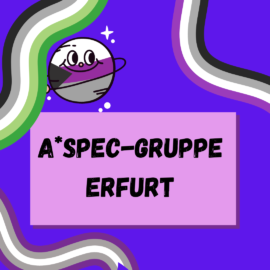 Date/Time
Date(s) - 22. October 2023
16:00 - 18:00
Eventlocation
Queeres Zentrum Erfurt
Johannesstr. 52, Erfurt
Categories
Description:

You identify yourself as a-, demi-, grey- *sexual and/ or *romantic or you feel otherwise belonging to the A* spectrum? Maybe you're not really sure about your Aidentity yet and have a thousand questions in your head? If you are looking for other people on the ASpectrum with whom you can share your feelings, thoughts, experiences, doubts and self-knowledge, then the group A*Spec Erfurt is just right for you.
This group is a safe space for people on the A*Spectrum – a little break from the societal pressure of normative expectations of sexual and romantic relationships and binary gender ideas. We create this space together by sharing our experiences, having discussions, and planning activities – or simply spending relaxed time together at movie, cooking, or game nights, craft activities, picnics together in the park, and much more.
The group was founded in March 2022 as the first A*Spec group ever in Thuringia, but had to take a break temporarily. Since June 2023 we are active again and meet regularly in the rooms of the Queer Center Erfurt in Johannesstraße 52.
If you feel addressed, have questions or are interested in an exchange, feel free to contact us at:
aspec@queeres-zentrum-erfurt.de
We are looking forward to meeting you!