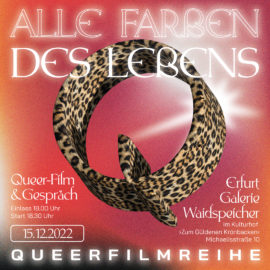 Date/Time
Date(s) - 15. December 2022
18:00 - 21:30
Eventlocation
Galerie Waidspeicher
Michaelisstraße 10, Erfurt
Categories
Description:

🇺🇸⬇️🇬🇧 english version below 🇺🇸⬇️🇬🇧
Wir zeigen den Film "Alle Farben des Lebens" (2016).
🎧 Original in Deutsch mit englischen Untertitel
📆 Mittwoch 15.12.2022
✅ Einlass 18:00 Uhr
🎬 Filmbeginn 18:30 Uhr
💬 Filmgespräch mit Dr. Robin K. Saalfeld zu Darstellung von Transgeschlechtlichkeit im Film
📍 Galerie Waidspeicher | Michaelisstraße 10 | 99084 Erfurt
🟥 Oben wohnt Dollys Tochter Maggie zusammen mit der 16-jährigen Enkelin Ramona, die sich jedoch selbst Ray nennt und bereits seit Jahren als Junge lebt.
🟧 Nun möchte Ray den entscheidenden Schritt machen und eine Hormontherapie beginnen.
🟨 Dazu benötigt er jedoch die Zustimmung beider Eltern, was auch Maggie vor weitreichende Probleme stellt.
🟩 Sie muss Rays Entscheidung nicht nur unterstützen, sondern auch wieder Kontakt zu ihrem Ex aufnehmen, den sie eigentlich komplett aus ihrem Leben gestrichen hat.
🟦 Und auch Dolly hat Schwierigkeiten zu akzeptieren, dass sie von nun an endgültig einen Enkelsohn haben soll.
🟪 Alle drei Generationen müssen plötzlich existentielle Entscheidungen treffen und Veränderung als Chance erkennen, damit sie als Familie wieder neu zusammenfinden können.
(Quelle: https://tobis.de/titel/alle-farben-des-lebens)
📚 Den Film gibt es übrigens auch in unserer Queeren Bibliothek zum Ausleihen!
❗️Maßnahmen zum Infektionsschutz❗️
➡️ Wir empfehlen eine medizinische Maske (bevorzugt FFP2).
➡️ Du hast Erkältungssymptome? Bleibe bitte daheim!
➡️ Mache gern freiwillig vorher einen Schnelltest.
🤝 In Kooperation mit der Galerie Waidspeicher @erfurtkultur, @queereszentrumef, @tiam_ev und @queerbib
🖼️ 

Eine Begleitveranstaltung zur Ausstellung " OK BOOMER <3" von Götze Sophie Schramm @goetzschramm  

im Rahmen de

s Queeren Dezemberkalenders mit 

der LSBTIQ-Koordinierungsstelle


ℹ️ 

Weitere Infos unter: https://www.queerweg.de/projekte/dezemberkalender 
🎉 gefördert aus Mitteln der Thüringer Staatskanzlei und der Landeshauptstadt Erfurt
⬆️🇩🇪⬆️ deutsche Version oben ⬆️🇩🇪⬆️
On Thursday, 15th of Dezember, we are showing the movie "Alle Farben des Lebens".
🎧 original in German with english subtitles
📆 Thursday 15–12–2022
✅ Open at 6.00 pm
🎬 movie starts at 6.30 pm
💬 Talk with Robin K. Saalfeld (PhD) about aesthetics and representation of transgenderness in film
📍 Galerie Waidspeicher | Michaelisstraße 10 | 99084 Erfurt

🟥 Dolly's daughter Maggie lives upstairs with her 16-year-old granddaughter Ramona, who calls herself Ray and has lived as a boy for years.
🟧 Now Ray wants to take the decisive step and start hormone therapy.
🟨 To do this, however, he needs the consent of both parents, which also poses big problems for Maggie.
🟩 Not only does she have to support Ray's decision. She also has to get back in touch with her ex, whom she actually completely eliminated from her life.
🟦 Dolly also has difficulties accepting that she finally have a grandson from now on.
🟪 All three generations suddenly have to make existential decisions and recognize change as an opportunity to reunite as a family.
(Source: https://tobis.de/titel/alle-farben-des-lebens)
📚This movie is also available as a rental copy at the Queer Library!
❗️Corona- Rules❗️
➡️ Please bring your own mask (preferably FFP2)!
➡️ Please, stay at home in case you feel sick!
➡️ If possible, take a rapid test at home.
Filmabend "Alle Farben des Lebens" mit anschließender Diskussion