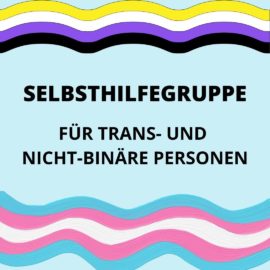 Date/Time
Date(s) - 3. September 2023
15:00 - 17:00
Eventlocation
Queeres Zentrum Erfurt
Johannesstr. 52, Erfurt
Categories
Description:

Who can participate?
Anyone who is trans or non-binary themselves or still unsure. This can also mean that you may not have a word for your gender. For example, if everyone says you're a man or a woman, but somehow that doesn't fit you at all, you're also welcome. We know how different people are. There is no right way to be trans or non-binary. It doesn't matter if or how much you want to change your body. It also doesn't matter how many people you tell that you are trans or non-binary. It also doesn't matter how many other steps you've already taken or how many you still have ahead of you.
What can you expect?
After a short welcome, we want to talk about topics that currently move us. Each session has a main topic that we talk about, but of course you can also bring up other topics. We publish the topic of the session beforehand here in the event calendar and on the social media channels of the Queer Center. However, it's also okay to say nothing at all. No one has to participate. If you just want to drop by and listen, that's ok. After 2 hours the official part is over. However, anyone who feels like it can then stay a little longer and chat a bit.
Do you need anything else?
We want as many people as possible to feel comfortable with us. If you would like to participate but still need something or have a question, feel free to write to us at shg-geschlecht@queeres-zentrum-erfurt.de.
Accessibility:
We try to be as barrier-free as possible. If you need barrier-reducing measures, write us. We will then try to find a solution. The room is accessible with a wheelchair. However, the toilets are unfortunately not barrier-free.
We are looking forward to seeing you!
Self-help group for trans and non-binary people