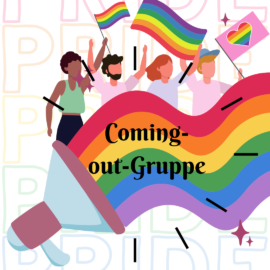 Date/Time
Date(s) - 9. May 2023
18:00 - 20:00
Eventlocation
Queeres Zentrum Erfurt
Johannesstr. 52, Erfurt
Categories
Description:

Coming out – what is that actually?
"I am different." – For most people, this realization is the beginning of the process of their coming out. Homosexual, bi-sexual or pansexual, asexual or aromantic, queer, trans* or inter* – it is not easy to find the way to one's own sexual orientation and/or gender identity and to talk about it.
Recognizing and acknowledging your own sexuality and/or gender identity is one side of coming out. But how do I tell my parents, my friends, my colleagues? What should I share, what are my limits, do I have to share everything? You are right with us if you are still completely unsure about all this; and we are also happy to welcome you if your coming out is already behind you, but you would like to continue to exchange ideas.
Together, many things are easier. That's why we try to give you the confidence to go your own way in our coming out group.
We share experiences and tell our stories.
But it's also okay if you don't want to say anything. Then just come and listen.
Our group is open to everyone, no matter your gender identity or sexual orientation.
We meet every second Tuesday of the month starting at 6:00pm in the rooms of the Queer Center. If you have any questions, feel free to email us at coming-out@queerweg.de.