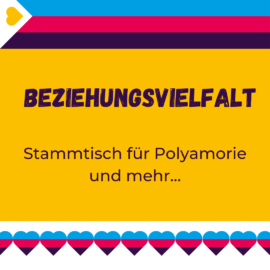 Date/Time
Date(s) - 1. June 2023
17:00 - 20:00
Eventlocation
Queeres Zentrum Erfurt
Johannesstr. 52, Erfurt
Categories
Description:

Who can participate?
Our meeting is about open relationships, polyamory, relationship anarchy and many other forms of non-monogamous relationships. Are you interested and want to exchange ideas with like-minded people? Then you are invited, no matter how much experience you have!
We have three fixed rules:
The get-together is for people 18 years and older. If you are younger and still interested, please write us. Currently we cannot make any exceptions.
We are not a dating platform.
Be sensitive with your language. Our get-together and the Queer Center are safe spaces for queer people. Ask your fellow humans, with which name and pronoun they want to be addressed.
Do you have questions, wishes, ideas or suggestions?
Then write to us at: polyamorie@queerweg.de
Relationship Diversity – Get-together for Polyamory & more…