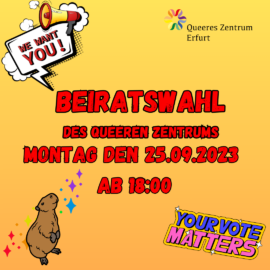 Date/Time
Date(s) - 25. September 2023
18:00
Eventlocation
Queeres Zentrum Erfurt
Johannesstr. 52, Erfurt
Categories
Description:

Hello, dear all!
📌 On Monday, September 25, 2023, at 6 PM, the election for the 2nd volunteer advisory board will take place!
On this day, the nominations will also be held. No matter your age or how you've previously interacted with the Queer Center (QZEF), everyone is welcome!
Would you like to bring forth your ideas, actively participate in QZEF, or provide advisory support to the staff members?
❗ Then, consider running for the advisory board election or having a say in who should occupy the board. This way, you can serve as a bridge between the volunteers and the staff members, contributing to the representation of the interests of the LGBTQIA* community.
🚩 If you wish to become a part of the advisory board, you can nominate yourself on that day (September 25, 2023).
📧 Can't be present in person? Feel free to send us a message in advance at info@queeres-zentrum-erfurt.de with a brief introduction of yourself.
❓ For any questions, feedback, etc., please reach out to us at info@queeres-zentrum-erfurt.de
Election to the 2nd advisory board of the Queer Center